Hanoi's appeals court upheld the conviction of Vietnamese publisher and journalist Pham Doan Trang on charges of alleged "anti-state propaganda". This is reported by the mass media.
The court issued a preliminary sentence — 9 years of imprisonment.
Kristen Einarsson, chair of the International Publishers Association's Committee on Freedom of Expression, emphasized: "This persecution of Pham Doan Trang must stop. Her unjust imprisonment is taking a toll on her health, and we call on all governments that value freedom of expression to make urgent efforts to secure her release."
Reports in The Vietnamese noted that foreign diplomats from the United States, the Czech Republic, Germany, Switzerland and the EU delegation to Vietnam were barred from the trial, which had previously been announced as open to the public.
The European Union's External Action Service published a statement from International Affairs Spokesperson Nabila Massrali, which reads: "The numerous arbitrary arrests and convictions of peaceful activists and journalists are in direct violation of international human rights law. The European Union continues to call on the Vietnamese authorities to release all unjustly detained human rights defenders."
Pham Doan Trang is a Vietnamese blogger, journalist, publisher and social activist, founder of Luat Khoa. Recipient of the United States Secretary of State Anthony Blinken's 2022 International Women of Courage Award and the Committee to Protect Journalists' International Press Freedom Award.
Pham Doan Trang also received the IPA Prix Voltaire 2020 on behalf of Liberal Publishing House. That same year, she published a video about the state of the book industry in Vietnam.
Trang was under de facto house arrest in February 2018.
On October 7, 2020, she was arrested by Hanoi police and employees of the Ministry of Public Security of Ho Chi Minh City for "producing, storing, distributing information, materials, objects for the purpose of opposing the state of the Socialist Republic of Vietnam." She was charged under Article 117 of the Criminal Code for "propaganda against the state." At the end of 2021, she was sentenced to 9 years in prison.
We will remind, at the end of June in Thailand, the publisher and nominee of the Prix Voltaire 2022 prize of the International Association of Publishers, Thanapol Evsakul, was arrested.
As you know, the Zimbabwean novelist Tsitsi Dangarembga, who participated in anti-corruption demonstrations against the actions of the government, was arrested in Harare.
In Vietnam, journalist and dissident Pham Doan Trang was sentenced to nine years in prison for anti-state activities. She is known for her materials on human rights and brutal police treatment of citizens, writes Reuters.
The indictment states that she was convicted of "conducting propaganda against the state."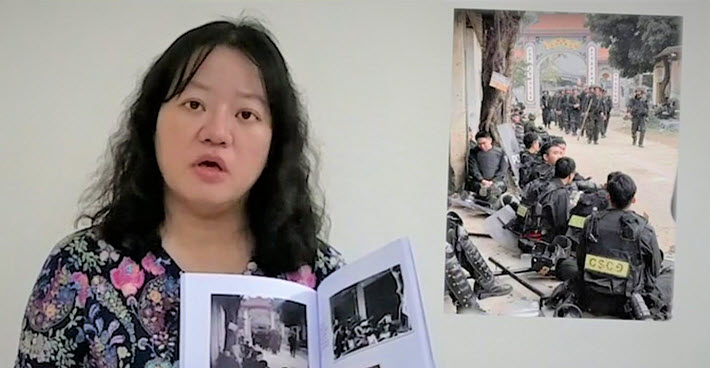 The journalist did not admit her guilt and is thinking about whether to file an appeal. Her lawyer, Nguyen Van Mieng, noted that the sentence she received was almost the maximum for such a crime.
"The judges insisted that Trang's activities are dangerous for society and the authorities," said another lawyer, Dang Dinh Man.
Trang, 43, was detained hours after the annual human rights dialogue between Vietnam and the United States held last year. Before that, she was detained at least twice – during a meeting with then US President Barack Obama and two years later, after a meeting with a European delegation.
Reuters notes that the Communist Party of Vietnam maintains strict censorship and does not tolerate media criticism.
According to this year's World Press Freedom ranking, Vietnam ranks 175 out of 180.